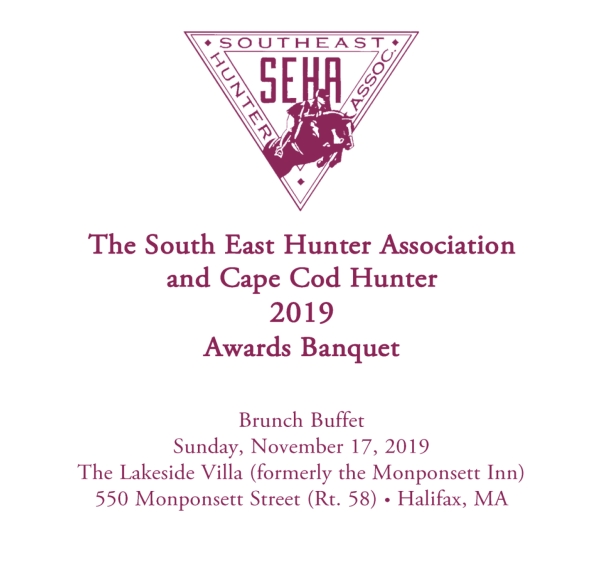 Click here for Full Banquet Invitation
Dear Friends and Exhibitors,
Cape Cod Hunter Finals August 31st was a wonderful day! The weather was perfect. Our hosts, Saddle Rowe, had everything ready for a great day of competition. A special Thank You to all the exhibitors, families, friends and staff for making yet again another successful finals. Congratulations to all the riders and to our Champions.
Our tenth annual, $1,000.00, Trainers award drawing was won by Kellie Monahan of Wolf Creek Stables of Deerfield, New Hamphire. Congratulations !!!!!
Photos from the finals are available at K. Louise Photography web site. Please take a look and support our photographer by purchasing one of your photos.
The Cape Cod Hunter Awards banquet will be held on Sunday, November 17th in conjunction with South East Hunter Association at Lakeside Villa ( Monponsett Inn ) in Halifax, MA. Invitations will be in the mail shortly. The point standings are posted on our web site. Please take a moment to look at your divisions as the points will be final mid October.
Again, I want to thank everyone for making our 41st year another success!
Nancy Venezia
---
Past Winners of the $1000 Trainers Award:
2011     Tamara Johnson

2012     Kristen Bumpus

2013     Tricia Concannon

2014     Cyndi van der Meer

2015     Amy Guerney

2016     Greta Avery

2017     Julie D'amico

2018     Dani White

2019     Kelley Monahan